KORG LP 380 USB Digital Piano
Price on request
Please contact us if you are interested in this product.
---
---
Authentic grand piano experience in a slim design that adds style to your home
The LP-380 provides a brilliant piano sound in a low-profile, slim design. The flat-top cabinet looks stylish even when the key cover is closed. The high-output amplifier and speakers accurately reproduce a realistic piano sound, while Korg's flagship RH3 keybed enables expressive performances. Now, there are two new color variations to choose from. LP-380-RW boasts a "Rosewood grain finish" which provides a high quality, visual aesthetic. While LP-380-BKR features a unique color scheme comprised of a two-toned finish of "Vivid Red and Chic Black". Including the existing models, "BK (Black), WH (White) and RD (Red)", you can now select from a total of 5 colors to elegantly match your decor.
USB MIDI/AUDIO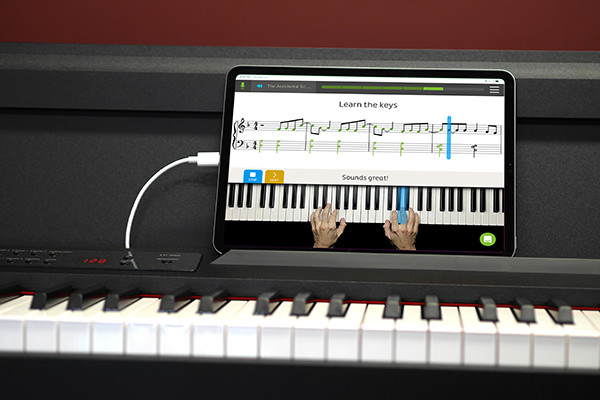 You can use a USB cable* to connect this instrument's USB port to your smartphone, tablet, or computer, and use the LP-380U as a MIDI keyboard to play an external sound module. Your performance on the LP-380U can be recorded as music data on your smartphone, and sound from your smartphone can be heard through the speakers of the LP-380U.
The prestigious LP-380 digital piano, featuring the highly acclaimed RH3 keybed, is proudly built in Kyoto, Japan by craftsmen with the experience and expertise gained from producing some of the highest quality digital musical instruments available. Our goal is complete customer satisfaction and we are proud to produce pianos that musicians will enjoy playing now and for years to come.
Real Weighted Hammer Action 3 Keyboard
The Real Weighted Hammer Action 3 (RH3) keyboard reproduces the same playing experience as on a grand piano, with heavier response in the lower register that becomes lighter as you play upward. With improved response to repeated keystrokes, even rapid passages can be reproduced without impairing the expression of the performer.

There's also a Key Touch Control function that lets you choose one of three levels to specify how your playing dynamics will affect the sound, allowing you to personalize the instrument to your own keyboard touch. With a view toward the environment, no lead is used in the hammers of the keyboard.
---
We Also Recommend